Take care of yourself
Because we believe in a sustainable model we chose reasonable production.
Since 2008, we have been committed to providing you with products that can be kept for years and years
Our connection to the oceans is an important reminder of the urgent need for different actions.

That's why Our company is now Oeko tex 100 certified, The strictest textile label, quality assurance.
Tools for success
We have made the choice to use fabrics and materials ethically and produced in a sustainable way.
We are constantly looking for the most suitable fabric and techniques for our products:
Technicality to adapt to developments in the body of future moms
Absolute comfort and sweetness
An irreproachable quality to become a classic of your wardrobe
The best eco-responsible innovations (GOTS certified organic cotton, recycled fibers for jerseys ...)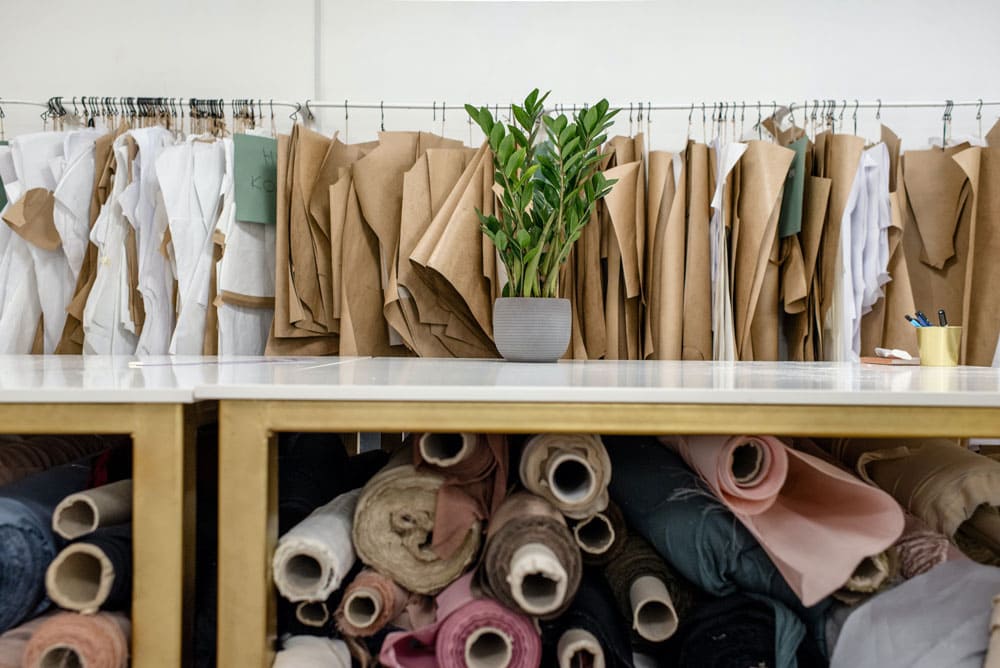 Development
You understand it, all of our models are prototype inhouse, thanks to the corsetry and textile know-how of our founders
No purchase Showroom: We choose each fabric, we sew, and we work again and again until we reach perfection.
No intermediary To offer premium quality at the right price for all.
Zero Waste: No unsold destruction or wasted materials
For our bolas and accessories, we apply the same quality and sourcing requirements.
Respect everyone's know-how
We're always looking for the perfect thread even if it does not fit into our criteria for quality or eco-responsible requirements.
We work mainly in Portugal, Tunisia, Turkey... and in France for our pregnant sailors shirts.
Sometimes, when the quality of the product is at stake, we go further to guarantee the best know-how. We have, for example, made the choice of Thailand for our seamless lines but in a family workshop producing small quantities of impeccable quality.
Every mom is a woman
If motherhood teaches us anything it is that the body has its intelligence, and it is necessary to respect it.
That is why since the beginning of our creations, we offer products that adapt to body shapes and every step of your motherhood.
When all maternity fashion brands are busy offering nude or black all-rounders, Cache Coeur prefers to offer at the same time sexy and comfortable products, as well as patterns and colors for this parenthesis that we wish to be as bright as possible
Our commitments... For you
Absolute comfort:
Flexible and ultra-soft materials for an unmatched comfort.
Maintaining:
Our corsetry know-how ensures you a flawless and smooth support.
Scalability:
Our cups are stretch, and our hooks have 4 adjustment positions to accompany the body of the expectant mother.
You choose your usual size and our product fits naturally, during and after pregnancy.
Inclusiveness:
Our products accompany all women from the B to the J cup, with different forms specifically developed to suit all morphologies. We adapt, for example, the size of our straps and add reinforcement wires on the sides on the larger sizes to ensure optimal comfort and maintenance.
Quality:
Perfect finishes, attention to detail and many quality controls throughout the creation and manufacturing processes.
Security:
Our materials are guaranteed without harmful products and are specifically developed to respect your skin. Our company is OEKO-TEX certified.
Ease breastfeeding
Our removable hulls and our business clips in one hand make life easier for day and night moms. Our Curve washable breastfeeding pads complete the range for serene breastfeeding.
Maintenance:
Because we know that your hours are numbered, all our collections are designed to be easy to put on and wash in a machine on a delicate cycle.
Improve our practices
It is also thinking about the course of our creations from us to you
Once manufactured, our products are packed in individual "polybags" to protect them and facilitate their storage in our offices in Brest.
While waiting to find really green packaging (Work in Progress ...), we worked to offer acceptable alternatives, like Replacing non-recyclable polybags with new recyclable polypropylene.
All our cartons are reused to return orders from our customers and recycled only as a last resort. Our packages placed on the web are produced and printed in Brittany, closer to our offices.
Finally, we optimize and use all our subjects to the end. The remainders are given to fashion and styling schools for their students.
We also regularly give products to associations including our Fabric masks Category 1 washable to make them accessible to the greatest number.
Finally...
When you walk on our site or pass the door of one of our retailers, you buy a piece designed in France, in Brest, from A to Z.
A bra, a nightie, a jersey ... Imagined by Audrey and then accompanied towards excellence by the rest of our little team and our faithful workshops with whom we work, for some, from our beginnings.